Lee Kuan Yew Personal Life - Growing up
Mr Lee Kuan Yew as a baby. This photo was taken after he won first place in a baby show
Photo - Lee Kuan Yew as a baby with his father, Lee Chin Koon in the family's bungalow home at 92 Kampong Java Road
Mr Lee, at two, on a tricycle in his Neil Road home in 1925 with his father, Mr Lee Chin Koon.
Mr Lee Kuan Yew and Miss Kwa Geok Choo at Cambridge in 1946. -- PHOTO: ST FILE
Began Law School at London School of Economics, but later moved on to Cambridge University when Kwa joined him.
They married secretly on 23 Dec, 1947 in Stratford-upon-Avon.
Nov 1961 with Tungku Abdul Rahman, who was Chief Minister of the Federation of Malaya from 1955 and
the country's first Prime Minister after its independence in 1957. The Tungku initially opposed the idea of a
merger's with Singapore; but changed his stand in 1961.
1963 Union Harbour Workers unrest (above). Mr Lee speaking to workers from the Singapore Harbour Board.
When members of the Singapore Harbour Board Staff Association decided to proceed with a strike after he
promised a $2 million award for wage claims. He deregistered the union on 22 July, 1963.
1952 Postal Strike: Mr Lee meeting postal workers at their quarters in Maxwell
Road (above). He secured for them salary increases from the colonial
government

th

rough a

combination of strikes, negotiations and

favourable




press coverage.

When the city's 500 postal w

r

o

kers were on strike,

trishaws




were used to ferry mails

& parcels to collection centres

which residents




had to collect their mails.
1955 Hock Lee Bus Riots (Right & far right). Mr Lee meeting unionists during the Hock Lee Bus strike. Led by leftists
Fong Swee Suan & Lim Chin Siong; the strike turned violent, leaving 4 dead and was the first in a series of incidents
that convinced Mr Lee that his partnership with Fong and Lim had to end eventually.
Mr Lee Kuan Yew (in black) with his family members, comprising siblings (clockwise from left) Monica, Dennis,
Freddy and Suan Yew, as well as mother Chua Jim Neo and father Lee Chin Koon, in a family portrait
shot at Lloyd Studio. this shot was taken the night before Mr Lee left for England to further his studies.
Mr Lee Kuan Yew in a series of interviews for the book Hard Truths To Keep Singapore Going. As Mr Lee remains
critically ill in the Intensive Care Unit (ICU) of the Singapore General Hospital, media outlets around the world have
begun publishing profiles and commentaries of Singapore's former prime minister
People standing several deep along Commonwealth Avenue West paying their last respects to Mr Lee as the cortege drove past. More than 100,000 people stood in pouring rain along the procession's 15.4km route, which included the NTUC Centre and Trade Union House, the Port of Singapore and his Tanjong Pagar constituency, as well as Bukit Merah, Queenstown and Commonwealth housing estates
Early birds get plum kerbside spots
A boy with a rose tucked into his poncho waiting along Jalan Bukit Merah
People watching and waiting in the rain along Jalan Bukit Merah, some with their children in tow
READ MORE HERE
A large crowd gathered near Faith Methodist Church in Commonwealth, braving the heavy rain
in order to bid
a final goodbye to Mr Lee
The people stayed – wrapped in ponchos or under umbrellas and mats – in spite of the fickle skies.
READ MORE HERE
Flowers placed along Jalan Bukit Merah for people waiting to pay tribute to Mr Lee as his cortege passed through the

area yesterday. Thousands braved the rain to travel the last mile with him, as his cortege made its way to the funeral

service on a route that was itself a tribute to him, cutting across the key sites that marked his life and career.
READ MORE HERE
Many heads of state or government from other Asean countries and close partners were present at the University

Cultural Centre yesterday. These included (top row, from left) Bhutan Queen Jetsun Pema Wangchuck, Bhutan King

Jigme Khesar Namgyel Wangchuck, Malaysia's Yang di-Pertuan Agong Tuanku Abdul Halim Mu'adzam Shah, Brunei's

Sultan Hassanal Bolkiah, (front row, from left) Kazakhstan Prime Minister Karim Massimov, Japanese Prime Minister

Shinzo Abe, Indian Prime Minister Narendra Modi, Cambodian Prime Minister Hun Sen, Australian Prime Minister Tony

Abbott, and former US president Bill Clinton.
Staff and residents of welfare homes under Jamiyah waiting to witness Mr Lee's final journey
"My husband and I want all our four children to learn about Mr Lee's contributions to Singapore. That is why we have taken them to Parliament

and the Tanjong Pagar CC to pay our respects, and now we are here to say goodbye to Mr Lee as he passes by Shenton Way."
- Customer service staff Jasline Ang, 45, with her husband Albert Ang, 48, who is self-employed, and their children (from left) Zevid, seven, Jayden, five, Enilla, nine, and Alline, 12 -
"At first, I thought he was just a very famous figure everyone is talking about. But after listening to his speeches, I now know he made what seemed impossible, possible. I really feel he is a great man." -
Secondary 1 student Kai Peh, 12 (top, with friend Thaddeus Chua, 7), who was at Shenton Way with his mother.
He has been watching clips of Mr Lee's speeches and rallies on television since last Monday
Mr Lee is a great man. Being here is our way of paying our respects to him as a family."
- SIA pilot Captain Michael Goh, 41, who was with his wife Eunice, 36, son Jonathan, 10 and daughter Joyce, seve
n
The cortege passing The Pinnacle@Duxton in Cantonment Road. Mr Lee was just weeks shy of his 60th anniversary as

Tanjong Pagar's political representative when he died on March 23.
For businessman Laurence Ooi, 59, Mr Lee Kuan Yew was the reason he moved to Tanjong Pagar.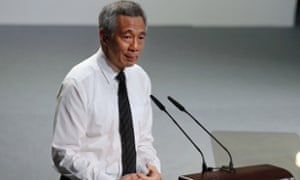 Singapore's prime minister, Lee Hsien Loong, holds back his tears as he delivers his eulogy for his predecessor and father, Lee Kuan Yew